Other Models in the Range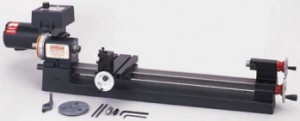 If you are interested in a lathe with more distance between centers, the model 4400 (metric 4410) lathe is available. Several upgrades are also included. Standard equipment is the same as on the model 4000; that is, 90 VDC motor with electronic speed controller, a 2.75″ (70mm) x 6.0″ (152mm) crosslide, pulleys, belt, faceplate, lathe dog, two dead centers, three hexagonal keys, sharpened high-speed steel cutting tool, eight-foot, three-wire power cord and instruction booklet. In addition, the model 4400 lathe has a 24″ (610mm) bed that has 17″ (431mm) between centers, a 2.5″ (63mm) resettable "zero" handwheel on the leadscrew, two 2″ (51mm) resettable "zero" handwheels on the crosslide and feed screw and a rocker tool post (P/N 3057) substituted for the standard tool post used on the shortbed lathes. The electronic speed control allows continuously variable speed control from 70 to 2800 RPM without belt changes. There is a second pulley position available that offers extra torque at low RPM if needed.
Many machinists find that the extra space between centers comes in handy when working with a part held in a chuck and a larger tailstock chuck with a long drill bit in place. The combination of chucks, part and drill can eat up a lot of the available center-to-center distance, and a little extra capacity is often appreciated. This lathe offers the same diameter turning capacities as the shorter lathe and same powerful motor/speed control. The differences are both the extra 9" of center distance and the addition of extras like the adjustable zero handwheels and rocker toolpost, making this lathe a good value for the extra cost.
Other Options
The 4400/4410 lathe can be ordered with P/N 8200 digital readout already installed on the crosslide and leadscrew axes. Standard handwheels are not included because they are replaced by the DRO handwheels. The lathe can also be ordered in "CNC ready" configuration ready for the application of stepper motors and CNC controls. In this configuration the standard handwheels are supplied so that they can be used on the rear shaft of a dual shaft stepper motor for optional manual control.